Flatbed Trailer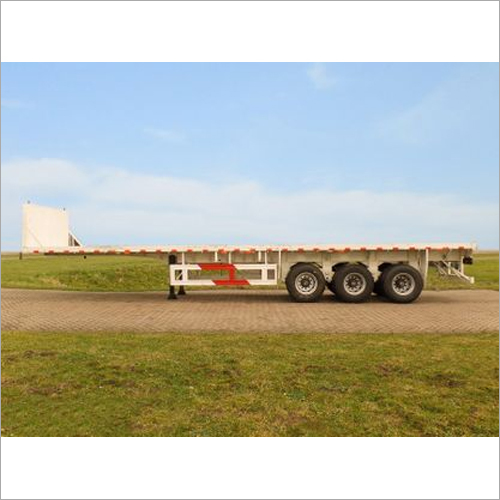 Flatbed Trailer
Product Description
Backed with well-experienced team members, we are actively indulged in presenting a world-class Industrial Flatbed Trailer. This type of heavy duty trailer is commonly utilized for freight, which cannot be fitted in a standard sized trailer. Best suitable for electrical transformers, heavy duty machinery and equipment, etc., such trailer is designed and made from top-grade materials and progressive technologies, and then connected to truck head using tracker pin. Besides, Industrial Flatbed Trailer is available in different models, sizes finishes, and specifications.

Product Detail:

Model:
40 ft. Flatbed Tridem axle Semi Trailer
All Type of Flatbed Trailer
Customize Flatbed Trailer
Certificate: Icat Approved & IOS 9001-2001
Chassis:
Chassis is constructed using 2 nos. fabricated beam of appropriate size, running along full length of the Trailer with cross members of folded sections. 4 mm thick MS chequered platform.
12 nos Twist Locks (2 nos 20Ft container / 1 nos 20Ft container Application / 1 nos 40Ft container Application).

King Pin: 2" de-mountable kingpin as per IS 6763 part-I.
Axle Assembly: 3 Nos. 13T & 16T [As Customer Required] capacity heavy duty axles According to CMV Act & AIS 113
Suspension:
Heavy duty tridem multi-leaf spring suspension.
Air Suspension.
Landing legs: Two speed telescopic kind landing leg
Tyres:
10.00 x 20 - 16 PR - 12 nos
11.00 x 20 - 16 PR - 12 nos
Wheel rim: 7.5 x 20 - 12 nos
Brake system: Webco ABS 4S3M Type brake system [As Customer Required]. 2-line pneumatic brake system with air tank, relay emergency valve and brake chambers.
Electrical: 24 V DC electrical comprise Tail lamp, Brake lamp and direction indicator fitted on rear end of trailer. 7 pole connector wiring.
Shot Blasting & Painting: Trailer shall be shot blasted and painted with twin coats of primer and finish enamel paint. Colour can be as per customer choice.
Accessories: Toolbox, Spare wheel carrier, and SUPD, RUPD as per CMVR requirements
Warranty: 1 year from the date of invoice under normal operating conditions excluding leaf springs & tyres and other proprietary items. Warranty of bought out parts will be as per supplier's terms & conditions.