Side Board Trailer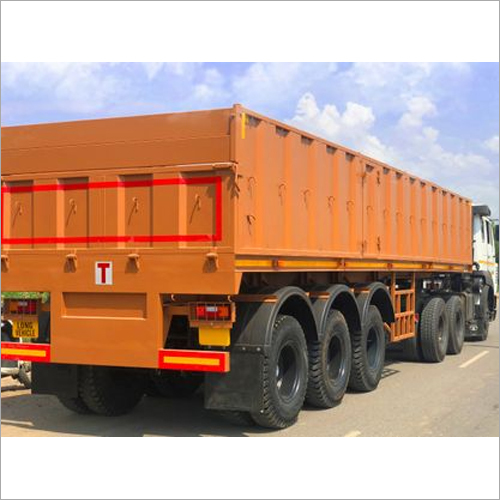 Side Board Trailer
Product Description
Industrial Side Board Trailer proposed by us is a heavy duty transport vehicle that jointed to a tractor head with the help of tractor pin. This kind of trailer is most widely utilized in the logistics. Also it can be utilized for carrying the bagged grain, steel, cement, and various other types of bulk goods. As made of h-tech parts & components it performs constantly by consuming low fuel. Rust proof, high impact resistance and great loading capacity, the Industrial Side Board Trailer can be availed in different capacities, coatings, and specifications.

Product Detail:

Model:
40 Ft Tridem Axle Side Board Semi-Trailer
35 Ft Tridem Axle Side Board Semi-Trailer
32 Ft Tridem Axle Side Board Semi-Trailer
30 Ft Tridem Axle Side Board Semi-Trailer

Chassis: Chassis is constructed utilizing 2 nos. fabricated beam of appropriate size, running along full length of the Trailer with cross members of folded sections. 4 mm thick MS chequered platform.

King Pin: 2" de-mountable kingpin as per IS 6763 part-I.
Axle Assembly: 3 Nos. 13T & 16T [As Customer Required] capacity heavy duty axles According to CMV Act & AIS 113
Suspension:
Heavy duty tridem multi-leaf spring suspension.
Air Suspension.
Landing legs: Two speed telescopic type landing leg
Tyres:
10.00 x 20 - 16 PR - 12 nos
11.00 x 20 - 16 PR - 12 nos
Wheel rim: 7.5 x 20 - 12 nos
Brake system:
Webco ABS 4S3M Type brake system [As Customer Required].
2-line pneumatic brake system with air tank, relay emergency valve and brake chambers.
Electrical: 24 V DC electrical include Tail lamp, Brake lamp and direction indicator fitted on rear end of trailer. 7 pole connector wiring.
Shot Blasting & Painting: Trailer shall be shot blasted and painted with twin coats of primer and finish enamel paint. Colour can be as per customer choice.
Accessories: Toolbox, Spare wheel carrier, and RUPD as per CMVR requirements
Warranty: 12 months from the date of invoice under normal operating conditions excluding leaf springs & tyres and other proprietary items. Warranty of bought out parts will be as per supplier's terms & conditions.