Tip Trailer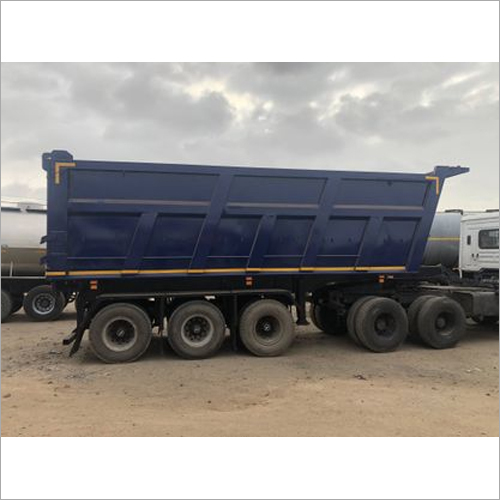 Tip Trailer
Product Description
On account of our enormous experience in the respective industry, we are actively committed towards proposing the globe's best MS Tip Trailer. It is used in various commercial sectors for loading, unloading and transporting heavy goods from one place to other places. Owing to strong mild steel body, it is capable to load heavy goods. It gives excellent performance by consuming low fuel due to its high grade components & parts. Moreover, we offer MS Tip Trailer in different models with technical specifications at compromising prices.
Product Detail:

Model:
All Types of truck Chassis
Customize Tip
Certificate: Icat Approved & IOS 9001-2001
Chassis: Chassis is constructed using 2 nos. fabricated beam of appropriate size of material or equivalent, running along full length of the Trailer with pressed or equivalent cross members
BODY: 5mm thick side board, 6mm thick floor & 4mm tail door
King Pin: 2" de-mountable kingpin as per IS 6763 part-I.
Axle Assembly: 3 Nos. 13T & 16T [As Customer Required] capacity heavy duty axles According to CMV Act & AIS 113
Suspension:
Heavy duty tridem multi-leaf spring suspension.
Air Suspension.
Landing legs: Two speed telescopic type landing leg
Tyres:
10.00 x 20 - 16 PR - 12 nos
11.00 x 20 - 16 PR - 12 nos
Wheel rim: 7.5 x 20 - 12 nos
Brake system:
Webco ABS 4S3M Type brake system [As Customer Required].
2-line pneumatic brake system with air tank, relay emergency valve and brake chambers.
Electrical: 24 V DC electrical include Tail lamp, Brake lamp and direction indicator fitted on rear end of trailer. 7 pole connector wiring.
Tipping Kit: 5 Stage Tipping Kit [Hyva & Wipro] [As Customer Required]
Shot Blasting & Painting: Trailer shall be shot blasted and painted with twin coats of primer and finish enamel paint. Colour can be as per customer choice.
Accessories: Toolbox, Spare wheel carrier, and RUPD as per CMVR requirements
Warranty: 12 months from the date of invoice under normal operating conditions excluding leaf springs & tyres and other proprietary items. Warranty of bought out parts will be as per supplier's terms & conditions.